Upserve POS Review (Formerly Breadcrumb POS)
Expert Analyst & Reviewer

UPDATED
Advertiser Disclosure: Our unbiased reviews and content are supported in part by
affiliate partnerships
, and we adhere to strict
guidelines
to preserve editorial integrity.
Upserve POS

Pros
Specifically designed for restaurant employees
Online ordering
Customizable interface
Strong reporting
Cons
Slightly less bang for your buck
Occasional issues with outages
Upserve POS Overview
Anyone who has ever worked in the restaurant industry, whether as a barista, a high-end server, or a busser at The Old Spaghetti Factory, is familiar with the adage that the customer is always right. And those same workers also understand that the adage is a total lie (albeit one that must be adhered to if one wants to avoid getting fired).
Foodservice can be a thankless industry for worker bees, and the creators of Upserve POS (formerly Breadcrumb) understand this all too well. As such, they have specifically designed their point of sale system with these workers in mind. Comprised of former managers, bartenders, and servers, Upserve POS's designers worked together to create an easy-to-use and low-cost POS system that would alleviate some of the major headaches faced by the restaurant/hospitality industry.
With features for specialty orders, table management, restaurant management, and customer management, Upserve POS has most of the tools you'll need to run a bar, restaurant, nightclub, or café. Upserve POS is partnered with GrubHub to offer an online ordering and delivery integration. And with Upserve POS and the rest of Upserve's services connected, the company boasts a strong restaurant management platform that is easy to use, even on the go.
This POS system works on both iOS and Android systems, making it an optional mobile POS solution. Servers can take and send orders directly from the table as well as provide digital checks and collect payments.
Read on to find out what else Upserve has to offer.
Pricing
If you would like to test Upserve POS before purchasing (and you should), you can sign up to see the POS in action. For more in-depth pricing information, check out Upserve POS's pricing page.
Upserve POS offers three pricing plans that cater well to various types and sizes of restaurants. Here's a brief overview of what you can expect from each package.
Core Software Platform:
$59/month/location, includes a single POS terminal license, $60 for each additional terminal license
Includes Upserve HQ insights, Upserve Live mobile app, Upserve Workforce (employee management), and Upserve Marketing
Upserve Payments (2.49% plus $0.15 processing fee)
Premier 24/7/365 phone, email, and chat support by US-based staff with restaurant experience
Pro Software Platform:
$199/month/location, includes a single POS terminal license, $50 for each additional license
Includes everything in Core, plus:
Automated inventory management
Native online ordering
Customized loyalty program
Menu optimization
Server performance insights
Pro Plus Software Platform:
$359/month/location, includes a single POS terminal license, $40 for each additional license
Includes everything in Core and Pro, plus:
Custom reporting
Data API
Dedicated account manager
Cloud-Based Or Locally-Installed
Upserve POS is cloud-based and exclusively mobile — the system does not require a back-office computer. Like other cloud systems, you must have a wireless network and a broadband internet connection to access the entire system. Fortunately, Upserve POS has an always-on Offline Mode, which allows you to keep operating during internet outages. Upserve POS can also encrypt and store credit card data within an iPad until the internet is restored and transactions can be processed. Back-office and reporting features can all be accessed remotely from any device with the internet, allowing you to run your business from anywhere.
Specific Industry
Upserve POS is built for quick-service and full-service restaurants, cafés, drive-thrus, wineries, breweries, bars, lounges, pizza shops, and nightclubs. The POS supports all sorts of ordering: table (eating in), to-go (eating out), delivery, and bar tabs.
Specific Size Of Business
Upserve is built to handle foodservice establishments of virtually any size and has the price points and feature-sets to reflect that. Upserve POS can accommodate all menu sizes, whether your dining selections are as extensive and intimidating as those at the Cheesecake Factory or as small and specialized as In-N-Out Burger. Upserve POS also allows you to manage and compare data from multiple restaurant locations and has a very robust enterprise package.
Hardware & Software Requirements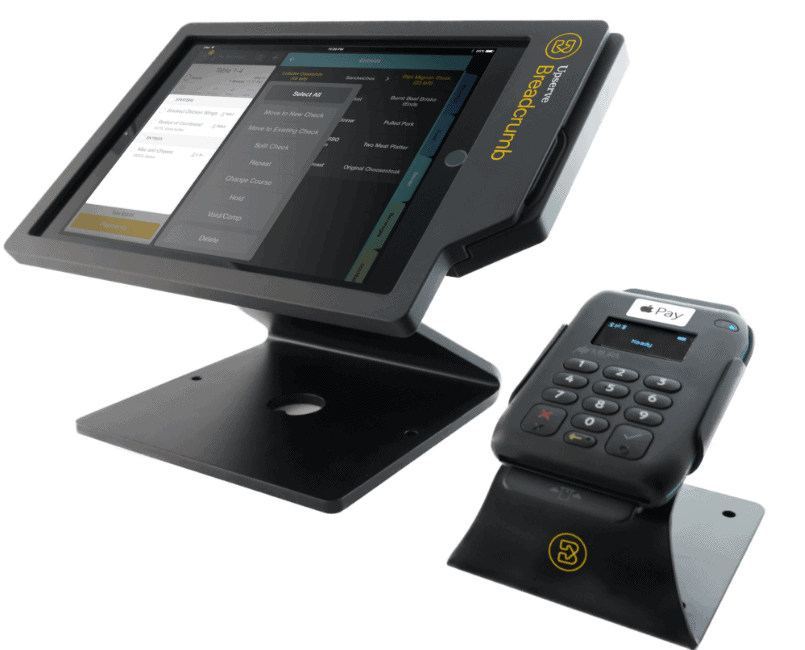 Upserve POS is available on both Apple and Android devices. Back-office reporting is accessible through any device that connects to the internet.
You can purchase hardware, including Meraki networking gear, Epson printer solutions, and Upserve's stand and Kitchen Display System, directly from Upserve's website.
Upserve POS also offers a fully-integrated EMV solution. The EMV reader will operate on Bluetooth and works as an addition to your current terminal and card swiper.
Further, Upserve offers a purpose-built tableside ordering device (Upserve Tableside) that features a 5-inch screen and belt/apron clip. The portable, Android-powered device fits comfortably in one hand, allowing servers to take both orders and payments at the table.
Ease Of Use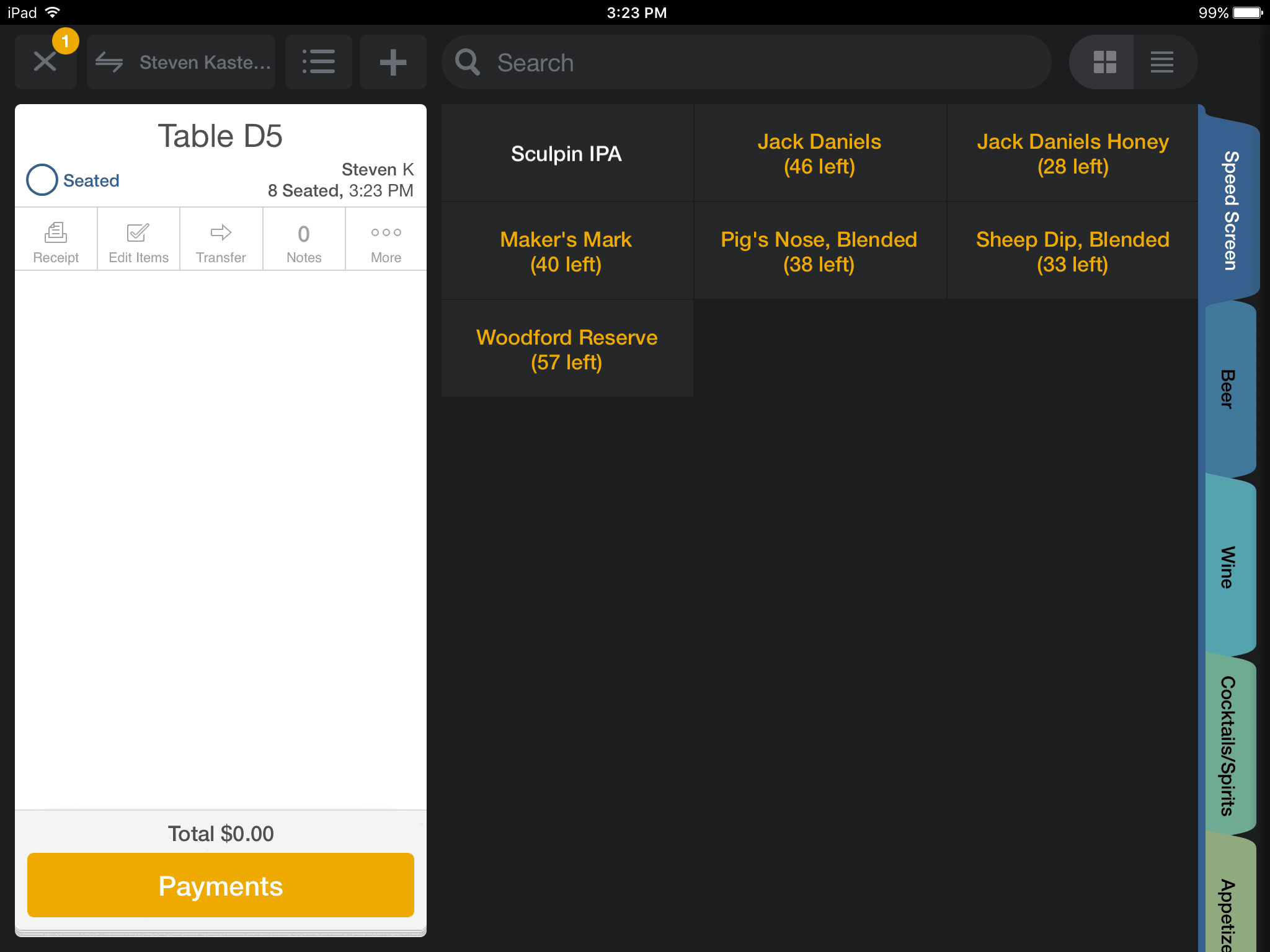 Upserve features the kind of design, customization, and mobility that allows business owners to focus on earning revenue without the distraction of a complicated POS.
Design: The Upserve interface doesn't have a lot of frills, but that's a good thing — there's not a lot to distract a server or bartender. Navigating the system is extremely easy, making training new employees a simple task that can be done in less than a day. Upserve also has a convenient Training Mode that can be operated without taking the system offline. The POS makes good use of its touchscreen functionality. It allows servers to swipe items and tickets to individual tables and quickly alter the table layout if they have been repositioned for larger groups.
Customization: Upserve is highly customizable. You can create as many menu items as you want and organize them to your liking into groups (appetizers, salads, entrees, drinks, etc.) that appear as tabs on the right side of the screen for easy access. It also allows you to make changes quickly so that popular items are easier to find.
Mobility: This system's mobility makes tableside ordering a breeze without the need for scratch pads or hand tickets. With a few taps, you can edit the check by deleting or modifying items, indicating seat position, specifying quantity, and making notes (e.g., VIP guests, allergic to shellfish). You can even change the prices of certain items right at the order screen after you've given the appropriate permissions. The ability to take tableside payments is also a nice benefit of this system.
Features
Upserve performs all necessary functions from the moment a guest is seated to the moment they leave: table management, seat positions, order-taking, adding modifiers, firing orders, printing checks, and accepting payments. Features include:
Customization: You can customize all of the terminal functions to your specifications at any time. Upserve representatives will program your menu, help train your employees, and set up your hardware and payment processor, all for no additional fee. Upserve employees also show you how to program your menu so that any future updates you need to make on your own will be hassle-free. This is an area where Upserve really makes its mark, as the menu process can often be time-intensive, even if a company is programming it for you.
Remote Printing: Customizable remote printing means that you can send orders and receipts to as many printers as you'd like (e.g., kitchen printer, bar printer, receipt printer). Terminals can even be set up to communicate only with certain printers or with all of them. It's up to you.
Upserve Live: Probably, the most convenient of all of Upserve POS's management features is the ability to access all of the reporting functions through the Upserve Live app for the iPhone. You can check on sales and real-time data from anywhere. It's a highly-intuitive interface as well, making it a snap to monitor your business quickly from, for instance, a poolside chair on vacation.
Upserve HQ: This functions like a back office where you can generate reports, toy with settings, create menus and items, and enter employees from any device with an internet connection. Access and permissions can be customized by each employee's role. You can also access advanced analytics and management tools.
Order Functions: Upserve POS comes with two modes: Quickserve and Server. Quickserve is designed for to-go ordering, or use by a bartender, where speed to start and close a tab is essential. Server mode, on the other hand, brings the server into a table view with the menu arranged on tabbed category pages. Both modes include a search function for item names. Online orders push checks into the check details section for acceptance and review.
Table Management: Number and organize tables by tapping and dragging them across your virtual floor plan. Divide tables in your restaurant into different zones for simpler server assignments and restaurant management. Color-coding allows you to keep tabs on occupied seats, and the meal progression graphic shows which course a table is on.
Course/Menu Management: Create as many menu items as you want and organize them to your liking. Store item descriptions within the menu, so your servers can provide guests with accurate descriptions of meal ingredients and preparation. The system will automatically cancel a menu item as soon as it runs out so that servers and bartenders know it's not available.
Reporting: Get reports on sales, payments, product mix, labor, check details, voids, comps, and pay in/payout. The dashboard feature is where report summaries of your most important figures are displayed. Upserve POS is included in the Upserve Restaurant Management Platform, which is integrated with Upserve HQ, giving owners and operators a more advanced analytics suite. Stand-out reports include the server analysis and the menu item retention "magic quadrant." The server analysis makes coaching employees much easier by breaking down their strong suits and showing areas they might need help in. The magic quadrant report takes your menu and divides it up into quadrants that illustrate the frequency with which an item is ordered and the success rate it has in drawing customers back.
Online Ordering: Upserve POS offers an intuitive and straightforward online ordering interface. Customers can scroll through menu options and place orders for pickup, all without the restaurant needing additional hardware. Online orders are inputted directly into the system and sent to the kitchen, taking any additional work out of your employees' hands.
Kitchen Display System: Upserve's KDS makes for a simple and highly-efficient communication system between the front and the back of the house. It also organizes orders in the kitchen, cutting down on errors and speeding up ticket times.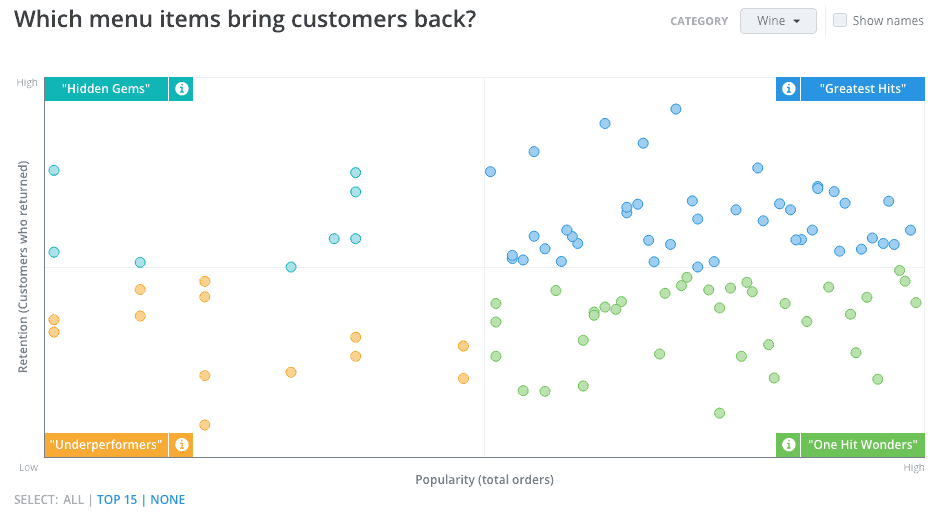 Employee Management: Track employee hours with the built-in time clock and keep your staff informed with the in-app bulletin board, a popular feature. Keep track of cash and credit tips, customize employee access parameters, and assign roles.
Payment Options: Merge, transfer, or split checks, and process as many credit card payments as you want on a single check. Void, comp, or discount either individual items or entire checks, set automatic gratuities (for large parties), and provide either printed or emailed receipts.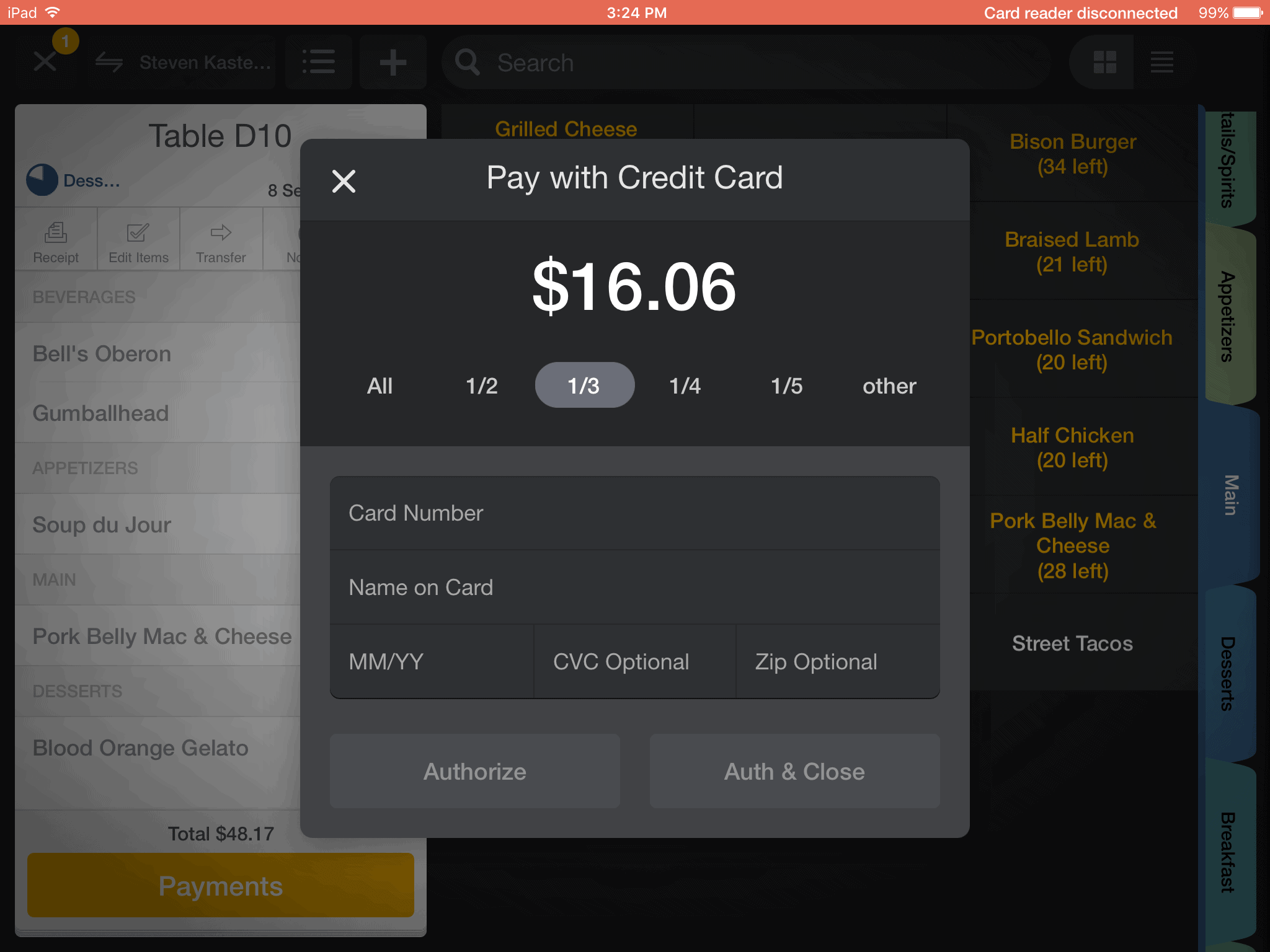 Cash Management: Run checkout reports at the end of shifts to balance your till. Set times when the system will automatically reconcile batches with your credit card machine.
Inventory Management: Inventory management is not one of Upserve POS's strengths, but it does offer some basic inventory features. Users can set an item count to keep track of stock. The inventory feature also integrates with Upserve POS's "Shift Notes" feature to alert servers of any significant stock levels changes. Upserve POS cannot track inventory at the ingredient level. If you need more in-depth inventory features, you will need to integrate with an external inventory management system. (See Integrations & Add-Ons below.)
Integrations & Add-Ons
Users can go to the Upserve Marketplace to shop for integrations. Upserve POS integrations include but are not limited to the following programs:
Accounting: Shogo, KitchenSync, RSI, Plate IQ
Restaurant Management/Analytics: Avero, Venga, CTUIT, Restaurant 365, PeachWorks, Compeat
Inventory: There are several third-party inventory management solutions you can use with Upserve POS:

Orca costs $399 for a one-time license, plus $129 per month (recurring).
BevSpot's price depends on your specific needs. Users can expect to pay anywhere from $79 to $249 per month. You can contact BevSpot for a quote.
Bevager offers several pricing points. The Standard plan costs $99.99 per month, the Premium plan costs $149.99 per month, and the Pro plan costs $199.99 per month.
BeerSAVER asks that you reach out to them for a pricing quote. Users with fewer than 12 taps can expect to pay at least $2,000 and $160 per month, while users with 16 taps can expect to pay $2,500 and $180 per month.

Time Clock/Scheduling: Gusto, Dolce, Homebase, 7shifts, Better Chains
Online Ordering/Delivery: GrubHub, Chowly, Open Dining Network, Zuppler, Menufy
Reservations: OpenTable, Tock, Resy, NextMe
Gift Cards: The Customer Connection, Swipe It, Opticard
Compatible Credit Card Processors
Like a few other POS systems (Toast comes to mind), Upserve uses an in-house processing system. Upserve Payments offers a convenient flat rate across all pricing levels of 2.49% + $0.15 per transaction and claims that it will match a better rate if a customer can find one. While we generally don't recommend being locked into a single payment plan, we've seen it be effective elsewhere — and it does streamline the process for you. Check out our Upserve Payments review for a closer look at how Upserve's credit card processing compares to other payment processors.
Customer Service & Technical Support
Upserve POS doesn't charge for 24/7 support plans, and many of its support services are available online via training videos, a searchable knowledgebase, and a community forum. Individualized phone support from an Upserve POS representative is available through a technical support line. You can also reach an agent through the in-app chat function from any device or by email.
The company assigns Customer Success Managers to every account to help make sure you are getting the most out of your POS system. You can also track and subscribe to Upserve POS's service status page.
Since the company's brief acquisition by Groupon, Upserve has made a concerted effort to beef up its customer service, and the results are noticeable. Recent reviews from 2018 indicate that customer service is fast, knowledgeable, patient, and honest. For my part, I found the customer service to be at least on par with most other major POS companies and extremely knowledgeable.
Upserve POS also has a blog and Facebook, Twitter, and LinkedIn accounts that are updated somewhat frequently. There is also a convenient food cost calculator and menu builder on its site.
User Reviews
Negative Reviews & Complaints
Many of the negative reviews to be found are from over two years ago, but some common complaints remain current:
Outages & Downtime: Several customers have complained of system downtime and outages during their peak busy hours. They are also frustrated about several mandatory updates that were pushed during peak business hours, causing downtime.
Cost: Upserve POS isn't exactly a bargain, and a few reviews felt other systems offered more bang for their buck. Some users also complained about surprise fees.
Buggy Offline Mode: Multiple reviews mentioned that Upserve's offline mode doesn't quite function as advertised and left them in the lurch when faced with an internet outage.
Positive Reviews & Testimonials
There are numerous glowing reviews of Upserve on its BBB profile and other review sites, most of them from 2018-19, reflecting the positive changes the company has made in the last year or two.
Easy To Use: Most of the positive reviews I found are mainly concerned with how easy the software is to use. Many customers also talk about the fact that Upserve is intuitive and makes training staff a breeze.
Great Reporting: Since Upserve POS was brought into the Upserve Restaurant Management Platform, the solution offers great reporting, analytics, and insights. Customers who adopted the platform are taking notice of the improvements over the POS of the past.
Excellent Customer Service: Customers seem pleased with the changes Upserve has made to its customer service, reporting that the customer support is now very responsive and helpful.
Great Menu Creation: As mentioned, Upserve's custom menu creation is a big highlight of the software, and many customers seem to agree.
Final Verdict
Designed by former waitstaff and restaurant owners, Upserve POS has several features that make it a steadily improving success. Under Upserve, the POS has found a reliable partner and now has the tools it needs to become an even better POS system. Using this highly customizable interface and intuitive design, creating a menu, arranging a floor plan, taking orders, and keeping staff informed is relatively easy. Upserve HQ and Upserve Live make it easy to manage the back office, monitor sales, and view reports from any place with an internet connection.
There are some definite downsides, though. Upserve POS continues to expand the number of integrations it offers but is still behind some other companies in this regard. If you're happy with what you've seen from the demo, this won't be a major problem. However, it is something to be aware of, especially since larger restaurants will likely need to spend extra money each month on an inventory integration. Customers also still claim to have occasional downtimes during peak business hours, though these issues seem to have improved since Upserve acquired Breadcrumb POS.
Bottom line, if you're looking for a new POS system for your restaurant, I'd recommend taking Upserve POS out for a spin. We've given Upserve a 4.5-star score for now, and while there is still room for improvement, this is a solid and well-designed restaurant POS system. If you like what you see, just remember to do your homework before making your final decision.
---
The Merchant Maverick Seal of Approval 🏆
Upserve POS


---
After hours of in-depth research and evaluation, we can confidently recommend this brand to our readers. Get started today and see Upserve POS for yourself.
The Merchant Maverick Seal of Approval 🏆
Upserve POS


---
After hours of in-depth research and evaluation, we can confidently recommend this brand to our readers. Get started today and see Upserve POS for yourself.
To learn more about how we score our reviews, see our
Point Of Sale (POS) Software Rating Criteria
.