ShopKeep By Lightspeed Review
ShopKeep was acquired by Lightspeed and is no longer accepting new customers, and we will no longer be regularly updating this review.
Expert Analyst & Reviewer

UPDATED
Advertiser Disclosure: Our unbiased reviews and content are supported in part by
affiliate partnerships
, and we adhere to strict
guidelines
to preserve editorial integrity.
ShopKeep POS

ShopKeep was acquired by Lightspeed and is no longer accepting new customers, and we will no longer be regularly updating this review.
Pros
Reasonable pricing
User-friendly
Robust back-office features
Strong customer service
Cons
Some limits within the inventory
Occasional bugs
Overview
ShopKeep by Lightspeed is a simple, elegant piece of software aimed squarely at small businesses and has carved out a space catering to food and beverage sellers. That said, most retailers, food-seller or not, will feel at home with ShopKeep POS.
Even after being purchased by POS giant Lightspeed, it remains one of the best values on the market for iPad POS (point of sale) systems, with packages starting at just $49/month (billed annually).
ShopKeep by Lightspeed offers a system that is easy to use, has dynamic features, and boasts all-around increased efficiency. While ShopKeep by Lightspeed definitely performs as advertised — quickly and responsively — it's not completely without its flaws as there are still some complaints of bugs in the software. That being said, ShopKeep's point of sale functionality and excellent (award-winning) support offers are huge draws that may outweigh any potential downsides for most small businesses.
ShopKeep by Lightspeed is partnered with an eCommerce platform, BigCommerce, and now offers that integration to its customers. This is a pretty big deal, especially in this day and age when more and more consumers are turning to online shopping.
Read on for our full ShopKeep by Lightspeed review. And if you've ever used this service, please leave us a comment below on your experience with it.
ShopKeep By Lightspeed Pricing
POS with ShopKeep is a no-contract, pay-as-you-go, monthly subscription service. Monthly package pricing is as follows:
Basic: $49/month billed annually; $69/month billed monthly
Includes:
One register license
Free credit card reader (with ShopKeep Payments processing)
Unlimited transactions
Accept contactless payments
ShopKeep Pocket mobile app
Get paid via text message
Unlimited inventory
Unlimited employees
Employee management
Inventory management
Customer management
Sales reports
Matrix inventory
24/7 support
Essential: $79/month billed annually; $99/month billed monthly
Includes one register license and all the features in Basic, plus:
Advanced: $179/month billed annually; $199/month billed monthly
Includes all features in Basic and Essential, plus:
Unlimited register licenses per location
Customer loyalty program
Social media management
Hardware bundle (on annual plans; includes a credit card reader, receipt printer, and iPad stand)
Priority phone support
For merchants processing less than $5,000/month with ShopKeep Payments, ShopKeep by Lightspeed also offers a limited free plan. The plan includes:
One register
One employee
Unlimited inventory
Sales reports
Limited access to ShopKeep Pocket app
The free plan does not include live customer support, and you'll need to upgrade to a paid package to access most features or if you process more than $5K monthly.
Cloud-Based Or Locally-Installed
ShopKeep by Lightspeed's point of sale utilizes a hybrid setup. The ShopKeep app runs locally from an iPad or specific Clover device and syncs data back to the cloud when there is an internet connection. In the event of an outage, the app continues to run with all features and now has the ability to take payments offline, but only if you are using a Clover device. If you have another device, you can set up a backup hotspot router or run the application on iPads with cellular data plans.
Specific Industry
ShopKeep by Lightspeed is excellent for small specialty vendors, such as wine shops, specialty food, gift shops, toy stores, concession stands, bakeries, cafeterias, and mall kiosks. It is also well-designed for foodservice applications, such as small cafes, ice cream shops, coffee shops, and food trucks. (FYI, we have a full post geared specifically about the best POS systems for small cafes for you to check out.) Smaller full-service restaurants might also be a good fit for ShopKeep by Lightspeed since it recently introduced open check and server-less syncing (open a check on one iPad, close it on another). ShopKeep by Lightspeed POS has also added table mapping, a long-awaited feature that makes it a solid option for smaller full-service restaurants.
Specific Size Of Business
ShopKeep by Lightspeed is ideal for small to medium-sized businesses. Though it can handle multiple locations, it isn't necessarily for the large retailer. This is by design, and ShopKeep by Lightspeed has done well to stay in this niche. The company continues to expand what it can handle in the back office, now allowing an unlimited number of users and unlimited inventory. However, the interface and back-office functions don't attempt to be a large-scale replacement. The iPad register can only host up to 3,000 item buttons. The rest of your inventory can be rung up with a barcode scanner or manual search.
Hardware & Operating System Requirements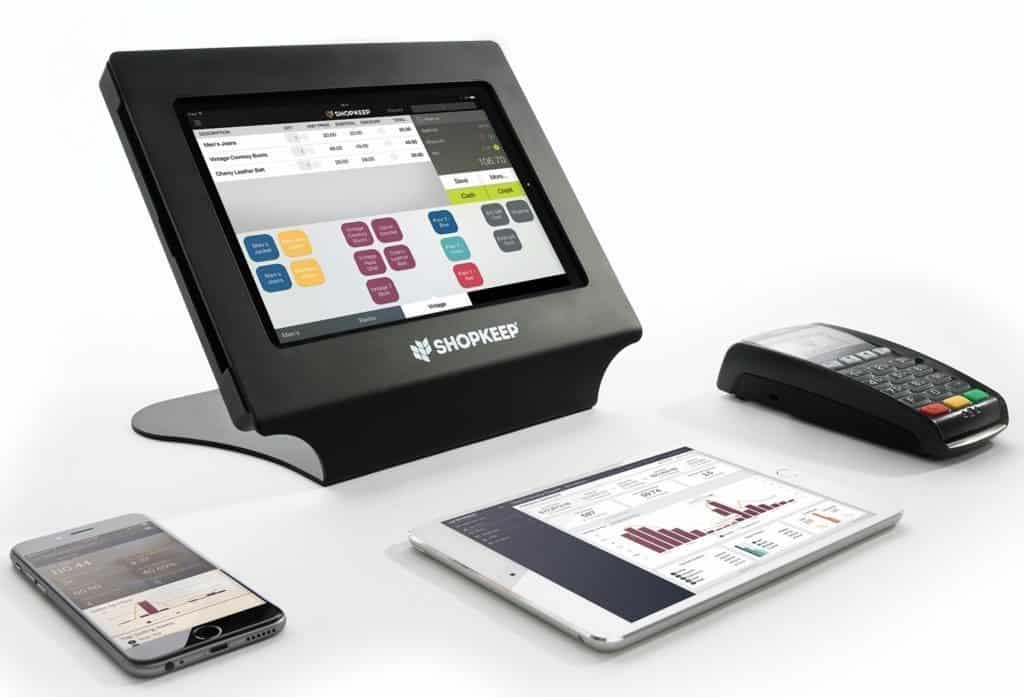 To run ShopKeep by Lightspeed, you can use the following:
For iPads:
6th generation iPad or better
iPad Pro
iPad Mini 4 with iOS 10 or above
For Android:
Tablets running 5.0 Lollipop or above
ShopKeep POS is also compatible with certain Clover devices and Poynt terminals. As for peripherals, there is an online hardware shop. You don't need to purchase your hardware through ShopKeep by Lightspeed's website, but keep in mind that you do need to purchase the brands and models that the company supports. Peripheral compatibility with the iPad can get very specific, so it's best to stick with what has been proven to work. ShopKeep by Lightspeed does offer a few bundles, ranging from a starter kit (with an iPad stand, cash drawer, receipt printer, and card swipe) to kits geared specifically for retail or quick-serve establishments.
They also have larger bundles for retail and restaurant businesses. The restaurant bundles come with a kitchen printer along with many of the above-mentioned essentials. Most are around the $1,000 mark, so they won't carve out a massive dent in your budget.
ShopKeep by Lightspeed offers several card readers and is now completely EMV-integrated and accepts NFC. Users can choose a reader that connects through Bluetooth or one that can be hardwired in. Both will run you about $300.
Ease Of Use
I can usually make a snap judgment about whether or not I will enjoy using a piece of software. It seems to me that most user interfaces fall on a spectrum: lifeless and corporate on the one hand, warm and intuitive on the other. ShopKeep by Lightspeed POS rests happily in the latter category.
The iPad app's visual design is sleek and modern, with fluid animation. There are sound effects for the buttons, but (fortunately) a mute option is located close by. It's enjoyable to use, and it is never a hassle to locate rarely-used functions. ShopKeep by Lightspeed's point of sale also does a good job listening to its customers and routinely updates its design to fix bugs and make it more user-friendly.
When you first log in to your ShopKeep BackOffice app, you're guided through a comprehensive setup process. You are given a rundown of basic features and also the opportunity to define any basic details of your store (name, address, etc.) that will be shown on receipts.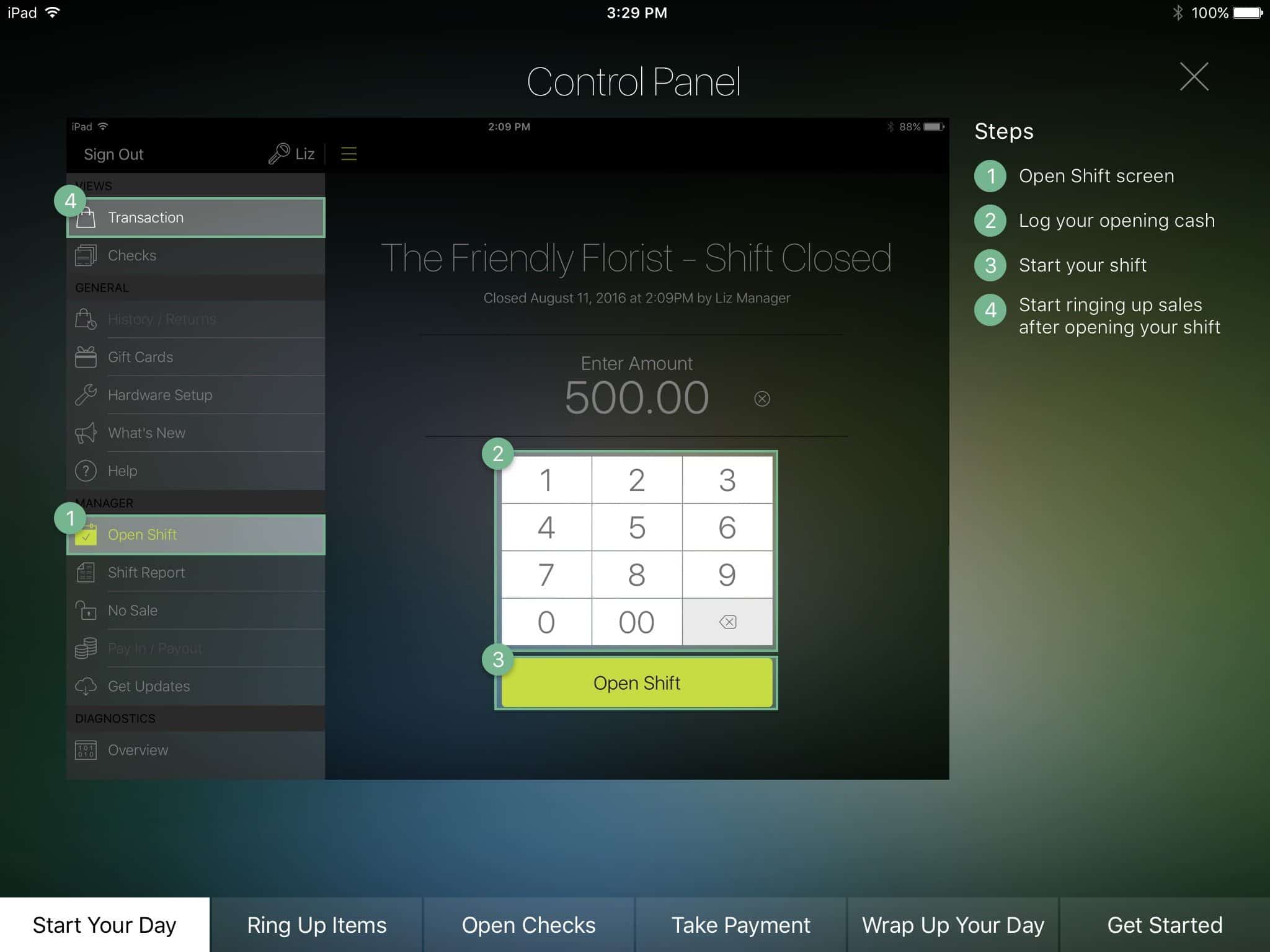 You're then shown how to add inventory (on an item-by-item basis or by CSV mass import) and how to add buttons on your iPad register. With these basics covered, you're ready to go. As I mentioned, it is a very intuitive interface; simply exploring the different menu options is enough to get you acclimated to the system and its features. Once set up, you will do all your reporting, employee time tracking, and inventory receiving on the web platform. Beyond that, most of your interactions are with the app. In addition to the register functions, there are also a handful of managerial actions that can be accessed from the tablet. And while you may be a little overwhelmed by all of the features in the BackOffice, ShopKeep by Lightspeed's website also does a really good job breaking them down and talking you through them.
ShopKeep By Lightspeed Features
ShopKeep's POS system offers a large variety of features. Instead of listing them all here, however, I will go through some of the features that really stand out.

ShopKeep By Lightspeed BackOffice
ShopKeep by Lightspeed POS already had a solid feature-set for the price, but it's recently bulked things up even further with ShopKeep by Lightspeed BackOffice. For a small business that operates with one or a handful of registers, you get some relatively advanced tools. For a low cost of entry, you get access to a system that manages your inventory, your customers, and your employees' time. The system keeps a record of all your transactions, offers a variety of reporting options for analyzing all this data, and provides unlimited technical support by live chat and email.
ShopKeep Pocket App
The ShopKeep Pocket App, now available for iOS and Android, gives you the ability to keep track of how your business is doing, no matter where you are, with the option of receiving notifications. If you have online sales set up in your ShopKeep by Lightspeed account, you can also accept mobile credit card sales using the Pocket app by manually entering a credit card number.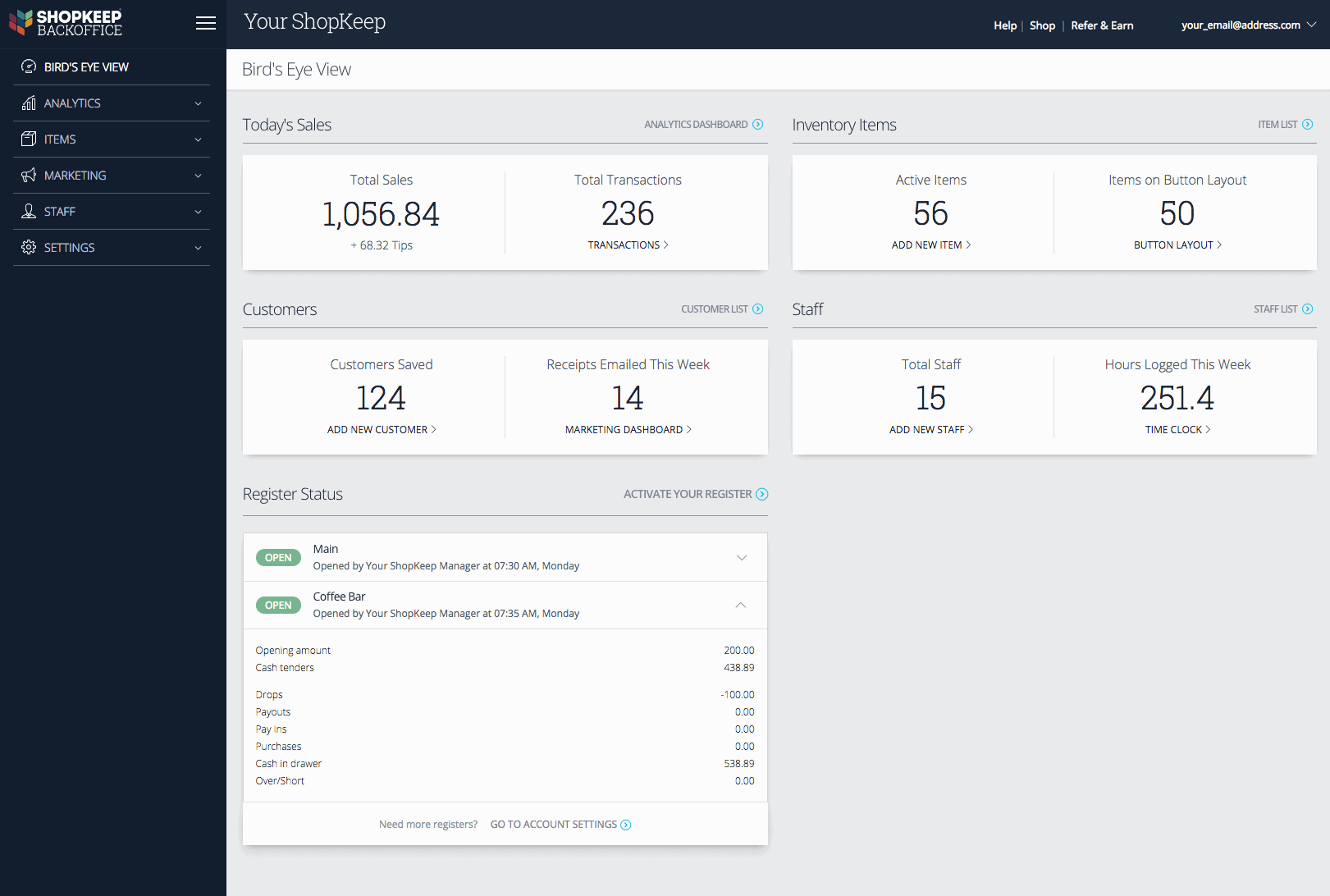 ShopKeep By Lightspeed Inventory Management
In particular, the inventory functionality deserves to be highlighted because it goes above and beyond what you'd expect from a product aimed at small businesses. In addition to keeping track of each item's quantities, you can also set reorder points and use a reporting function to designate what, how much, and from which vendor to order any low stock item.
One of ShopKeep by Lightspeed's recent updates added a matrix inventory feature, which is a big deal for most retailers. Users can now create a parent item and then add all the variations and view it on one page. Most impressively, though, ShopKeep by Lightspeed point of sale can inventory items as raw goods, then create assemblies based on this information. While this could be useful for a retail setting that bundles items together, its greatest value is to foodservice providers that need to manage inventory at an ingredient level. If you're running a diner, for example, you're not keeping track of how many patty melts you have on hand; you need to know the quantities of each ingredient: the patty, the rye bread, the cheese, the onions.
That said, ShopKeep by Lightspeed's inventory features are not quite as advanced as some other implementations I've seen. (For a comparison, check out our ShopKeep vs. Square post.) Users aren't able to define the unit measurement of each raw ingredient, so it's up to you to know that you're tracking potatoes by the pound and cheese by the slice. And though you can define each raw ingredient's cost, when you create an item composed of those ingredients, ShopKeep by Lightspeed doesn't total them up and auto-define the cost of the item. In the case of our patty melt, you would have to add up the costs and enter them in manually. I've seen stronger examples of this feature (POS Lavu), but it comes at the expense of other features. Needless to say, each system is going to have its trade-offs.
ShopKeep By Lightspeed Reporting
ShopKeep by Lightspeed offers an extensive reporting suite, and it recently added average cost reporting, sales by customer reporting, and sales by discount reporting to the mix. You can also print up-to-the-minute reports straight from the register. There are some nice reports that go beyond just the basics as well, such as modifiers and variants reports and an analytics glossary.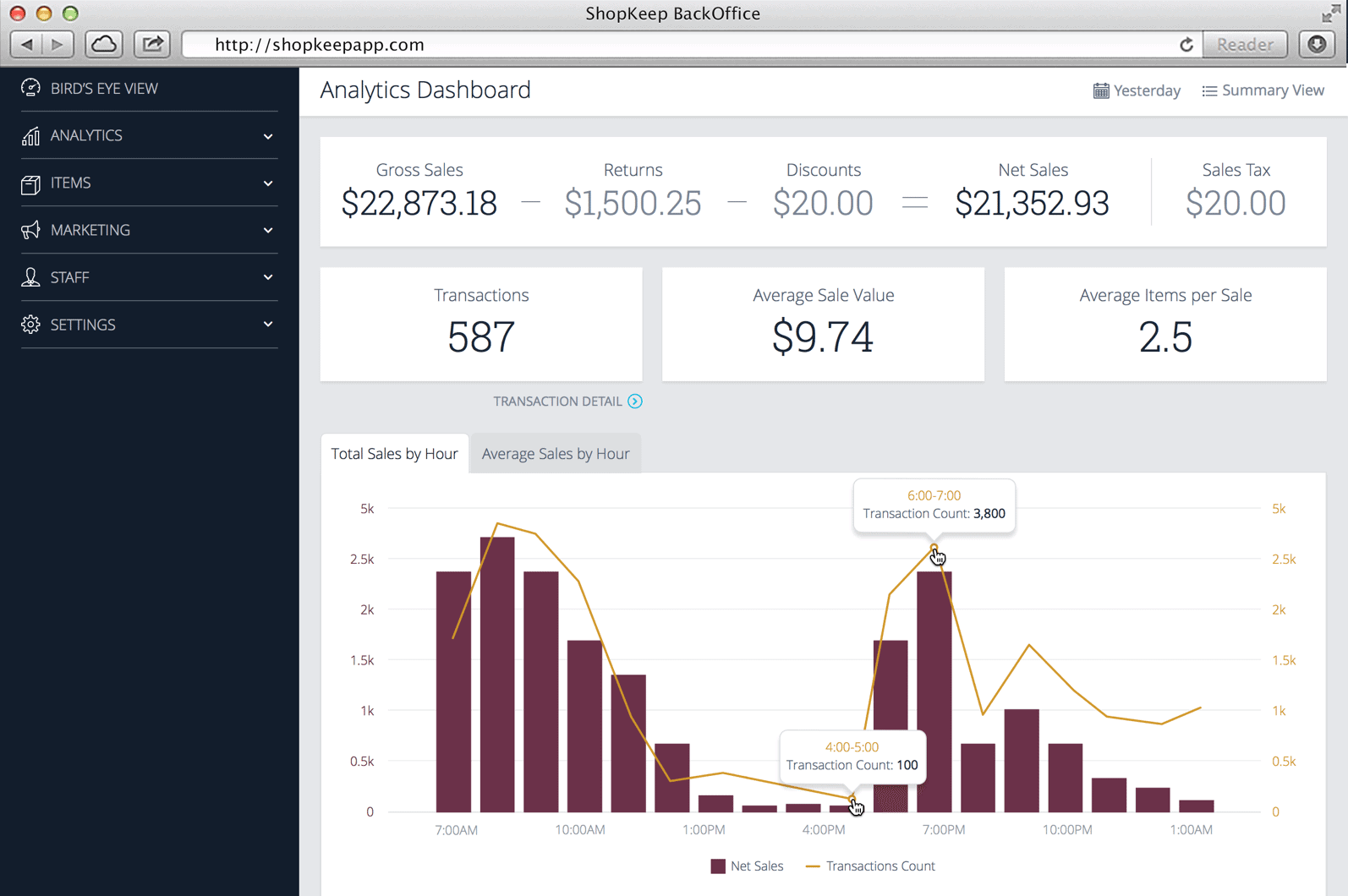 ShopKeep By Lightspeed eCommerce
Yep, ShopKeep by Lightspeed has also joined the eCommerce game, allowing you to sell online with its own system that integrates directly with its POS. ShopKeep's eCommerce services come with built-in templates to help you get up and selling quickly. It also makes it easy to enact curbside pickups, online ordering, and delivery, all areas that have taken on increasing importance since the Covid-19 pandemic. There are also tools to optimize your SEO and help customers shop your products on their phones.
ShopKeep By Lightspeed Loyalty Program
ShopKeep by Lightspeed offers gift card integrations and can print and email receipts, helping you keep track of customers for promotions down the road. It's easy to log into from the POS system and for customers to renew their points. With ShopKeep's loyalty program, you can store customer information, create notes, and formulate email marketing campaigns. There is even a nice function that tracks when items have been removed from a customer's online cart. Along with loyalty, ShopKeep by Lightspeed has gift card functionality, giving you another way to sell and grow your business's brand. For more information on ShopKeep and gift cards, check out our post, How To Set Up ShopKeep's Gift Card Program (& How To Make It Profitable For Your Small Business).
ShopKeep By Lightspeed Online Ordering
ShopKeep by Lightspeed makes setting up the ability to sell your products online a snap. You can run ads on Google and run reports that help make sure you're using the right phrases to increase the chances that your customers will find you. Once you're up and running, ShopKeep by Lightspeed makes it easy to work with popular social media sites (e.g., Facebook and Instagram) to help you interact with customers and to sell on major retail sites, such as Amazon.
Integrations & Add-Ons
Currently, ShopKeep by Lightspeed integrates with the following services:
Mailchimp: Though some POS systems do offer in-house email marketing, they often lack features that only dedicated ESPs (like Mailchimp or AWeber) can provide. By partnering with a third-party, ShopKeep by Lightspeed deftly sidesteps this problem.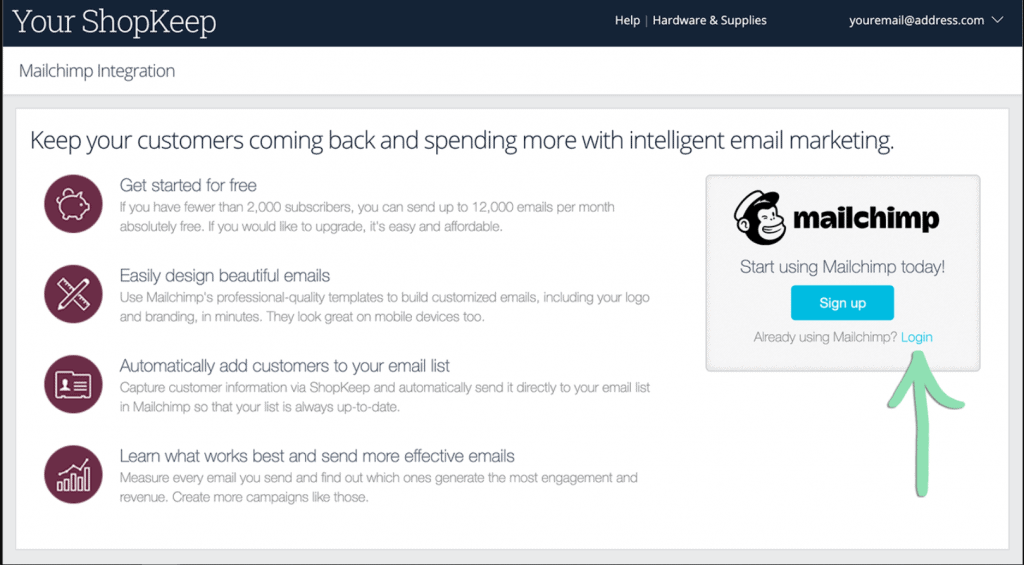 QuickBooks Online: The ability to integrate directly with your accounting software saves you time and frustration.
ShopKeep By Lightspeed Loyalty Powered By AppCard: An opportunity to reward your regular customers and bring new ones by offering a points-based rewards program that offers store discounts.
BigCommerce: This new (and much-needed) eCommerce addition to ShopKeep by Lightspeed will finally provide an opportunity to set up an online store. If you've already set up a ShopKeep by Lightspeed account, you can painlessly transfer your inventory over to your BigCommerce account.
Online Ordering: Set up a custom website with menu items and offer customers the ability to place orders from that website for pickup.
Compatible Credit Card Processors
Though the company favors its own payment solution, ShopKeep Payments, a number of integration options for card processors are offered; you'll almost certainly be able to keep the processor you're using or find one that better meets your needs. ShopKeep by Lightspeed recommends getting in touch directly to check if your processor is supported.
ShopKeep Payments
ShopKeep has its own in-house processing service called ShopKeep Payments. If you choose to use ShopKeep's merchant services, you'll get flat-rate processing at 2.5% + $0.10, with next-day funding. There are also custom rates available. Particularly if you're a high-volume seller, you can talk to a representative about if you think you might qualify.
Customer Service & Support
ShopKeep by Lightspeed owes much of its success to the fact that it is a customer-centric operation. Unlimited 24/7 support — by live chat, email, text, and web inquiry — is included in the monthly price, a huge plus compared to other similar, low-cost POS options.
The support micro-site also offers clear and comprehensive articles and video tutorials on every aspect of the ShopKeep software. And, of course, ShopKeep by Lightspeed maintains obligatory Facebook, LinkedIn, Instagram, YouTube, and Twitter pages; the content on these social media channels is relevant and engaging, mostly because it provides links back to ShopKeep's blog, which goes far beyond the standard corporate "blogorrhea."
The blog is the point of entry to ShopKeep by Lightspeed's Small Business Hub, a collection of business advice for the small-time entrepreneur, with information on zoning, permits, licenses, a small business guide to social media, and tons of other material. I'm doubtful most entrepreneurs will actually read the bulk of this material, but it does reflect ShopKeep by Lightspeed's intention to offer as much advice and guidance to its customers as is feasible.
In light of the coronavirus pandemic and the need for brick-and-mortar businesses to shift their operations online, ShopKeep by Lightspeed is offering subscribing retail businesses three months of access to its eCommerce features at no additional charge. Restaurant subscribers can access ShopKeep's online ordering tools for three months at no additional charge as well.
You can also check out our coronavirus small business hub for more support and resources to help during this challenging time.
ShopKeep App Reviews, Complaints, & Testimonials
ShopKeep Negative Reviews & Complaints
While the bulk of ShopKeep Payments reviews are positive, there are a growing number of negative ones to consider. ShopKeep by Lightspeed currently has an A+ rating with the Better Business Bureau, with 36 complaints over the past 12 months. After scouring the internet, here are the main trends that I see in users' ShopKeep reviews:
Customer Service: Customers state that customer service is great when they first start out, but its quality begins to decline from there. People report being shuffled from person to person and dealing with long response times — some even say they've even experienced rude customer service representatives. While ShopKeep by Lightspeed is easy to get in touch with initially, there are many complaints claiming that, when it comes to more complex issues, the company can take a long time to respond and needs constant reminding.
Bugs & Issues: Several customers have complained of bugs or issues with the system, especially when it comes to ShopKeep's inventory management. Others have had problems with unreliable hardware while using ShopKeep by Lightspeed. Any attempts these customers made to have the problem resolved were reportedly ignored or not handled properly by the company.
Updates Cause Issues: A few customers mentioned that when the system updates, the POS runs slower or is buggy, and some have reported that when new services are added, it can make the interface bulky.
Cost: A few reviewers were upset at the overall cost, particularly with the iOS version, as the initial hardware was more expensive. Others didn't like having to pay additional money for add-ons.
ShopKeep Positive Reviews & Testimonials
Even people who find fault with elements of ShopKeep by Lightspeed POS are quick to point out how happy they are with the overall product — especially when it comes to customer service. Many satisfied small businesses are currently using the ShopKeep software across the United States, but you don't have to take my word for it. Check out some testimonials on the ShopKeep by Lightspeed website for more info. After searching the internet, I found the following trends in positive ShopKeep POS reviews:
Ease Of Use: Most of the comments I saw noted that ShopKeep by Lightspeed POS is extremely easy to use and train employees on.
Good Customer Service: Many customers are happy with the level of support they receive and like the fact that it is offered 24/7.
Reasonable Pricing: ShopKeep is inexpensive, especially for the level of features that it offers.
Final Verdict
ShopKeep by Lightspeed continues to impress, especially in light of recent feature additions. The strong BackOffice, the integration with BigCommerce, EMV transactions, matrix inventory, and several updates to the reporting suite are also big pluses.
Additionally, ShopKeep by Lightspeed POS remains extremely user-friendly and is constantly adding features that make it an all-in-one system. The addition of ShopKeep Payments and an eCommerce platform means that, if you like the software, you likely won't have to look to many other places to find a system that can operate all facets of your business.
In short, we think that ShopKeep by Lightspeed is one of the best iPad POS systems out there. Those familiar with our reviews know we don't give 5-star reviews lightly. If you're a small business owner in the market for a new POS and want something you can use out of the box — something that is reasonably priced, full-featured, and flexible — ShopKeep by Lightspeed deserves a look.
---
The Merchant Maverick Seal of Approval 🏆
ShopKeep POS


---
After hours of in-depth research and evaluation, we can confidently recommend this brand to our readers. Get started today and see ShopKeep POS for yourself.
The Merchant Maverick Seal of Approval 🏆
ShopKeep POS


---
After hours of in-depth research and evaluation, we can confidently recommend this brand to our readers. Get started today and see ShopKeep POS for yourself.
To learn more about how we score our reviews, see our
Point Of Sale (POS) Software Rating Criteria
.