Expert Analyst & Reviewer

UPDATED
Advertiser Disclosure: Our unbiased reviews and content are supported in part by
affiliate partnerships
, and we adhere to strict
guidelines
to preserve editorial integrity.
ERPLY

Pros
Affordable for small shops
Works with any hardware
Works with most payment processors
Advanced inventory management
Cons
A slightly higher learning curve to master
Some issues with software glitches
Customer support is somewhat limited
ERPLY Overview
ERPLY is a point of sale and inventory management system that knows it doesn't have to show off to be effective. ERPLY is one of the most feature-rich POS products on the market compared to its competitors and comes at a price point that doesn't break the bank either. Small retailers can purchase just the POS software for only $39. If you're looking for a fully-functional system, complete with ERPLY's in-depth inventory management and a whole slew of features, it's going to set you back less than $100 a month.
ERPLY comes with everything you would expect in a full-service point of sale system, featuring gift cards, deep reporting, and excellent inventory management at its higher tier. It also has an open API for developers and integrates with myriad credit card processors, giving you options to shop around for the best rate. In short, ERPLY is a system to check out even if it might not blow you away at first glance.
In the POS world, ERPLY is like the diligent oldest sibling who overachieves and doesn't make waves. In the process, it might be a bit overlooked and underappreciated at times. ERPLY isn't trying to compete with some of the biggest or more trendy point of sale systems (such as Square or Clover) in that it's not a particularly flashy product. Its interface is actually one of its weaker points. Compared with the sleek UIs of other systems on the market, it can seem clunky and outdated. However, if what's on the inside truly counts, ERPLY is doing just fine.
Don't have time to read an entire review? Take a look at our top-rated point of sale solutions for a few quick recommendations. Every option we present here offers excellent customer support, detailed user interfaces, and easy-to-use software, all for a reasonable price.
Pricing
All pricing tiers come with a 14-day free trial that won't extort a credit card number from you. Once you're convinced, you can upgrade to one of the paid plans listed below. Interestingly, you can use ERPLY as a POS-only option with no inventory management or as a standalone inventory management option with no POS. If you want both POS and inventory management functions, the plan you want is the $99/month one.
Note that the following pricing packages bill annually. If you prefer monthly billing (committing you to ERPLY for less than a year), each package is $10/month more. Aside from the pricing incentive for annual billing, there is no pressure (or even an option) to sign a long-term contract.
POS without inventory (for small shops without complex inventory)
$39/month
One POS license with two user accounts
Basic x-/z-reports
Basic CRM
Email receipts
Flexible hardware support
Bluetooth peripheral support
Pop-up shop support
Limited email support only
No warehouse management
Inventory-only (for webshops and warehouses)
$69/month
One warehouse license with two user accounts
Real-time inventory back-end system
Product management
Inventory database
Reporting
Supplier management
Purchase and receiving
Packing lists
Barcode labels
Cycle counts (physical stocktaking)
Multiple product types
Kitting
Email purchase orders
Mobile inventory
Customizable document designer
Shopify integration
eCommerce API
Import/export tools
Inventory + POS (for high-volume single or multistore retailers)
$99/month
One POS with inventory license and two user accounts
Inventory database
Advanced reporting (includes custom report generator)
Advanced customer database + API and 1 million customers
Purchase and receiving
Supplier relationship management
A gift card and store credit system
Promotions/coupons and marketing intelligence
Quotes/sales orders/invoices
Sales commission calculations
Customizable document designer
Wholesale
House accounts
Customer-facing display
API access
WMS (Warehouse Management System capability)
Enterprise-level plans are also available. Contact ERPLY for multistore and enterprise pricing.
Cloud-Based Or Locally-Installed
ERPLY is what the company calls a "Cloud Hybrid System." That means it works both on and offline. The software is locally-installed, but data retrieval is now in the cloud. Its primary function relies on connectivity with its servers, yet an offline mode is available as a failsafe.
Specific Industry
ERPLY is designed primarily for retail operations, from the POS to the back-end features. However, its fully-featured POS functionality and robust inventory features also make this POS suitable for a coffee shop, grocery store, or quick-service restaurant setup.
Specific Size Of Business
ERPLY can accommodate any sized business. ERPLY initially marketed itself as a small-to-medium-sized business solution. The starter-plan pricing certainly is in line with that standard, but again, the software isn't just for the small boutique looking to simplify the sales process. The latest developments on ERPLY over the past several years have seen even more features added, making it a complete solution that is attractive even to the largest franchises and chain stores. As such, ERPLY now offers multilocation and enterprise-level plans. Several big-name brands have adopted ERPLY across their retail locations, including The Athlete's Foot, Porsche, and Birchbox.
Medium-sized businesses struggling to keep up with the management of their retail operations will see the biggest upside from this software. With ERPLY's cloud-based, no-contract, monthly service model, investing in such robust software and inventory management tools becomes a lot more attractive to a broader swath of business owners.
Ease Of Use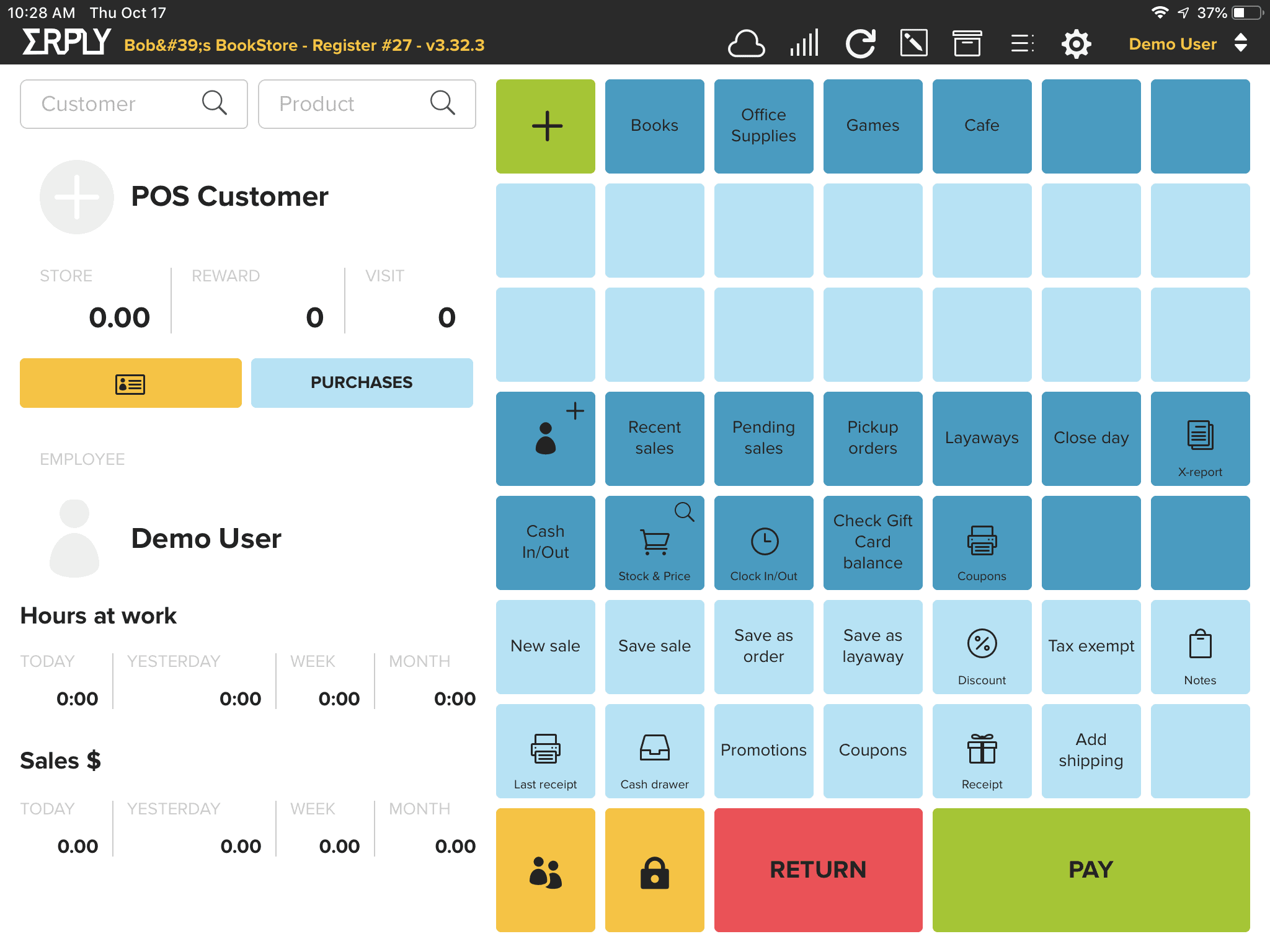 After signing up and logging in for the first time (on iPad), I was presented with a full-featured dashboard. The screen's left-hand side conveniently displays information on both the customer being rung up and the employee currently logged into the POS. The screen's right-hand side has all of the rich register functionality that you'll need to process a sale and some back-end features, such as reporting and customer information.
Playing around with the demo, I noted that it is very easy to process returns and remove items from the transaction if you accidentally add two of the same thing or the customer changes their mind. You can also assign a commission for any given sale.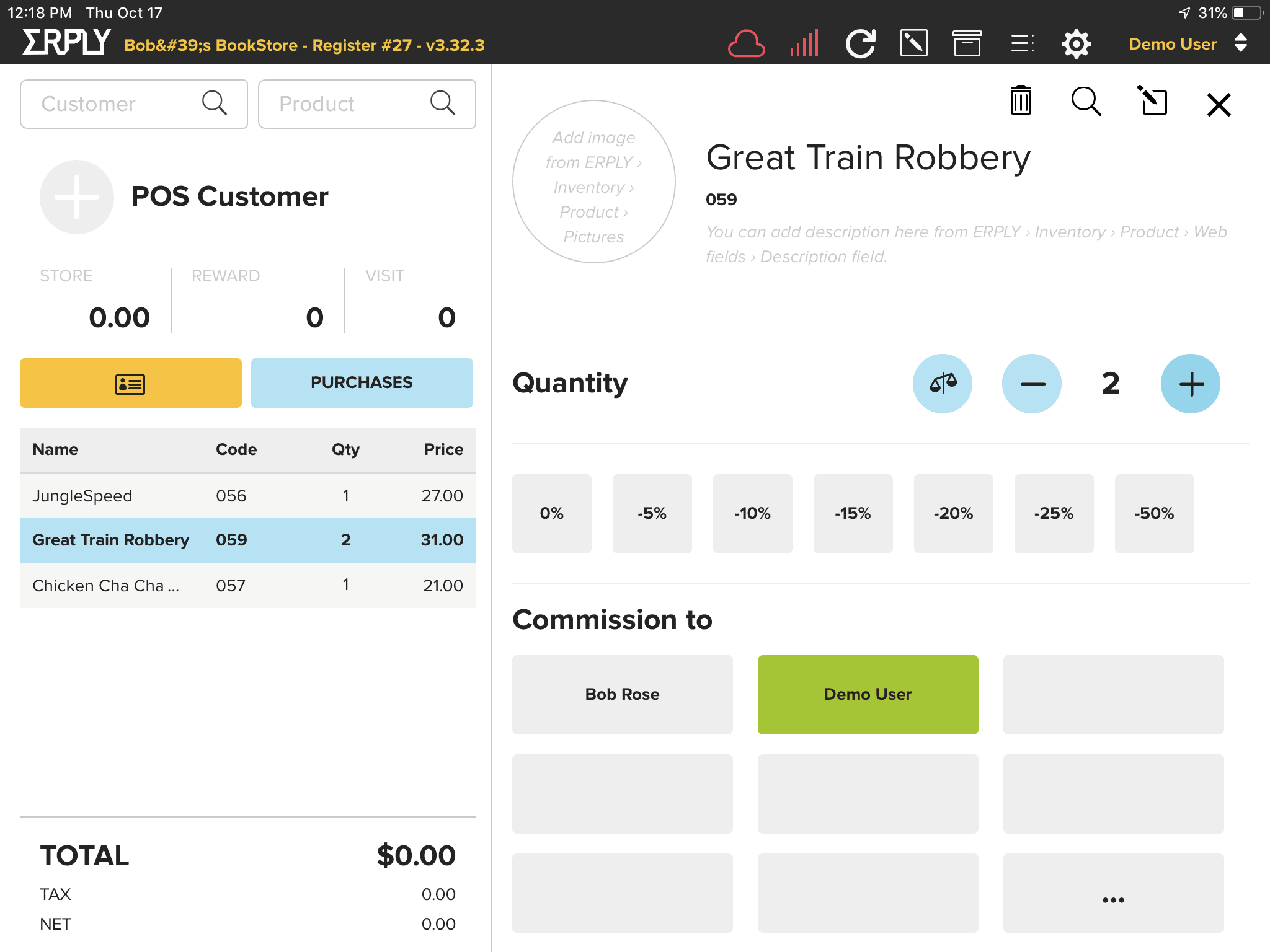 I also like that the POS interface renders the same on Chrome on my MacBook as it does on the iPad app. (Yay, responsive design!)
Now for the back-end features, such as warehouse management and shipping. The "So Simple A Child Could Use It" standard may be true of the register itself, but getting products into your system in a meaningful way certainly isn't child's play. This is a problem inherent to the concept and not a fault of the software, per se. Don't expect to turn it on and be ready to go in minutes. Inventory, storage, sales, invoicing, and purchasing are all gears in the machine of retail operations. As with any machine, you need to assemble the parts in a thoughtful, deliberate way to keep everything running smoothly. Once you're up and running and used to the whole environment, the clean design and surprising speed of the software should make daily operation a breeze — but there WILL be a learning curve.
I should also note that not all of the many (many) back-end features were accessible from the quick-demo version we had access to. However, you can request a free demonstration/consultation from ERPLY about any feature you want to try out.
Hardware & Operating System Requirements
The main thing you need to know is that ERPLY can run on pretty much any hardware with a web browser and on any operating system (even Linux!). A typical setup might be an iPad or on a desktop computer. However, you could also use an Android or even a Windows mobile device, such as a Surface tablet. ERPLY has mobile POS apps available on the iOS App Store, Google Play, and the Microsoft Store. Outside of the mobile apps, ERPLY works best on Chrome or Firefox.
Self-labeled "Hardware Agnostic," ERPLY claims its software can be used with virtually any hardware you'd like as a POS terminal. "That said," the company adds, "at the lower end of the performance spectrum, you may see some performance problems." Here are ERPLY's suggested specifications for a desktop setup:
1 GHz or higher processor
1GB RAM
3GB hard drive space
1024 x 768 screen resolution
Internet speed of 6 Mbps download/2 Mbps upload (minimum: 2 Mbps download/1 Mbps upload)
As for peripherals, ERPLY's site features a handy-dandy list of compatible hardware:
Payment Devices: Pick your favorite credit card scanner, and it's probably on this list. There are several MagTek, ID Tech, and Ingenico devices, along with Atos Worldline Yoman, for all your international needs, as well as the Verifone MX 915. If you choose PayPal as your payment processor, you can also use the PayPal Here EMV card reader.
Printers: ERPLY can work with any printer that is compatible with your hardware, though it recommends printers that can drive a cash drawer. For iPad setups, ERPLY recommends Star Micronics printers. Star's mPOP (tablet-ready combined printer-cash drawer) would be a good choice for any configuration with an iPad or another tablet.
Cash Drawers: Though it features Star, APG, Partnertech, and the MSCF-405 cash drawers on its site, the system is compatible with any drawer connected through a printer. Drawers connecting directly to the computer will not work with ERPLY.
Customer Displays: ERPLY prefers Star, Jarltech, or Birch, but any display will work via EPSI (ERPLY Point of Sale Integrator).
Scales: You've got your choice of Mettler Toledo Viva, Avery Berkel FX, or Dibal scales.
Scanners: For PC operating systems, ERPLY recommends Honeywell. Socket Mobile and Motorola are optimal for the iPad, but most USB and Bluetooth scanners in keyboard mode will work.
Like many software products, ERPLY may experience compatibility issues after major iOS and Mac OS updates. The company seems to be on top of these issues, with a disclaimer at the top of its website notifying the reader (at the time of publishing) that they should not update their ERPLY POS to iOS 13.1.2 or OS Catalina until ERPLY releases a compatible POS update.
Features
ERPLY's list of functions is extensive. Below, I've highlighted the features that I think make ERPLY stand out, but this is far from a comprehensive list of Erply's feature-set.
Note that some of these features are unavailable on the $39/month POS-only plan.
All Tender Payments: ERPLY processes credit card, cash, and check payments and even creates, redeems, and tracks gift card payments. Customers can also have "house accounts" with credit lines to make purchases against and the ability to send out credit statements or invoices. If your chosen credit card processor and hardware support it, you can also accept NFC payments, such as ApplePay.
Real-Time Reporting: View current register totals from all locations at any time.
Shipping Integration: The shipping module connects to all major shipping carriers (such as FedEx and UPS), providing real-time quotes based on weight, shape, and shipping methods. Print out labels at the register, slap them on, and send your items on their way.
Customizable & Printable Purchase Orders: Using ERPLY does not mean you have to sacrifice company branding. Create custom purchase orders with your company logo and font.
Supplier Database: Keep track of your vendors, including necessary contact info, contracts, and items purchased. The database automatically connects to the PO creation system for quick ordering.
Automated Reordering: Define the restock levels for products, so the system can automatically generate and send purchase orders to your suppliers when your inventory is running low. Set a maximum stock level, so you don't order more than you can afford at any given time.
Track Purchase Order Status: Keep track of your purchases based on what has arrived, what is in transit, what has been partially received, and what has been received damaged.
Purchase Reports: Take a look at your purchases for a specific timeframe with easily accessible and understandable purchase reports.
Easy Inventory Management: View stocks at each store location or all locations combined with the easy transfer of items between stores. ERPLY manages COGS (cost of goods sold) using the FIFO (first in first out) system. You can generate multiple price lists through the inventory module so that pricing can be determined by location, customer groups, or any promotions/sales you might have.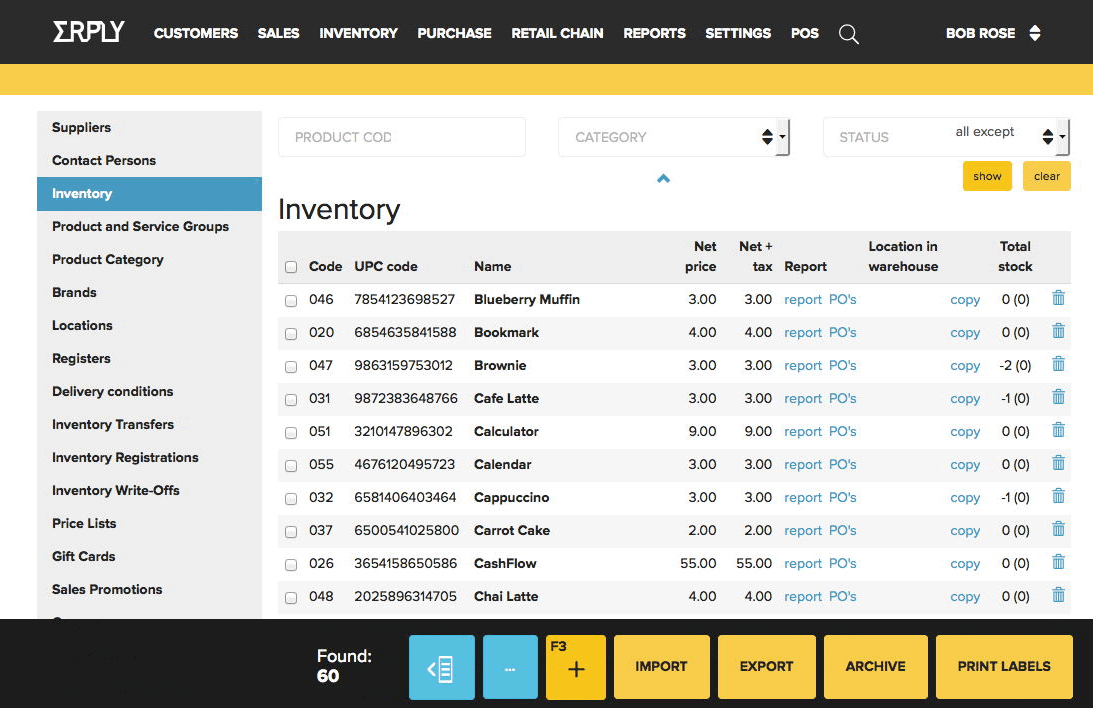 Easy Sales Promotions & Coupons: ERPLY contains a function for implementing promotions, such as BOGO or 50% off the next purchase. Furthermore, the system can create, print, scan, and redeem coupons. For easy insight into the return on investment, detailed coupon reports allow you to see how many coupons were redeemed, for which items, and by which customers.
Multiple Tax Rates: You can customize tax rates based on either the product or store location.
HR Capabilities: ERPLY has a built-in time clock for employee time tracking with clock reports you can generate based on employee, store, and/or timeframe. Additionally, the system has schedule management capabilities (so employees can see their schedules), manages payroll and commissions (whether sales-based, product-based, or tiered), and supports multiple security parameters for individual employees. With the security parameters, you can control what each employee is able to access and what is restricted (can also be done by groups, e.g., "cashiers").
Advanced Customer Management: With ERPLY, you can record and manage very detailed customer contact information, including name, address, phone, email, business info, Twitter ID, Facebook name, webpage URL, loyalty card codes, bank name, bank routing info, special discounts, credit limits, overdue penalties…everything other than their fingerprints. The system can also record each customer's sales history, allowing storeowners to keep track of frequent purchases to send customers recommendations, coupons, promotions, discounts, or other specials. Furthermore, the system can create and implement loyalty programs for promotional incentives.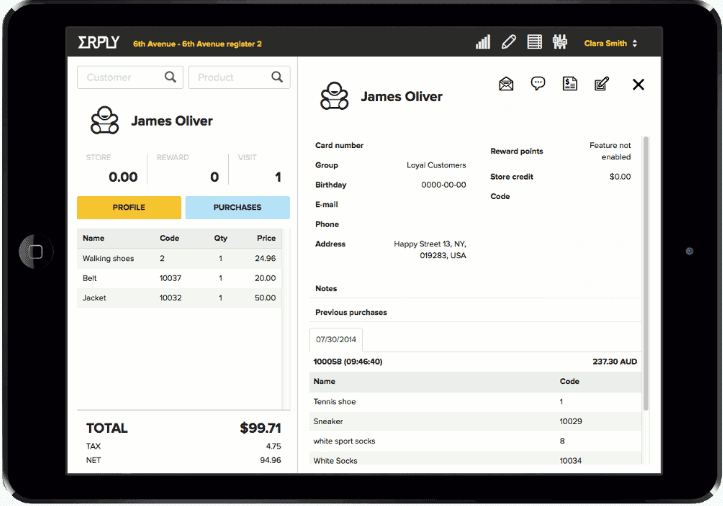 Email Linking: ERPLY can link all your emails together from one location, connecting all your customer emails simultaneously, allowing for easy sending of customer documents, such as receipts, quotes, or promotions.
Barcoding Feature: ERPLY's barcoding feature allows you to create and print barcodes, which you can customize with your business logo.
Customizable Sales Reports: With 100+ basic report templates to choose from, the filtering options (such as employees, products, date, time range, customer) create an insanely large number of permutations. There probably isn't an insight into your business that ERPLY isn't capable of providing. This customization can allow for easy pinpointing of slow versus busy times, providing information for potential adjustments in inventory, staff, or promotions. Also, reports for different locations can be prepared by date range, making it easy to delineate busy times by location as well as stores that may need more promotion in their area.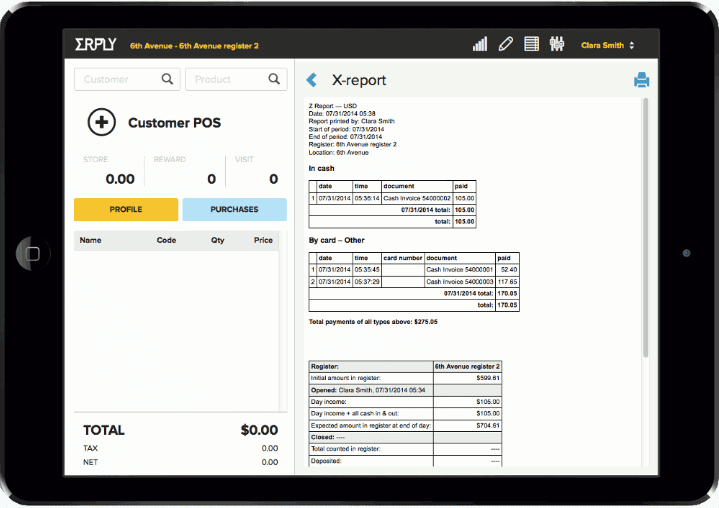 Dashboard Feature: ERPLY's "dashboard" widget bar provides a quick look at daily figures. It can be customized to present whatever information you desire, including but not limited to: last year's numbers compared to this year's, total revenue for the day, total units for the day, number of sales for the day, average daily transaction, current product inventory, returned items, and new tasks. The "dashboard" can be specified to provide a glance at various sales reports as well, such as sales by employee, top daily sales, top monthly sales, and monthly sales summary.
Customer-Facing Display: ERPLY's customer-facing display app, which connects to any peripheral screen, is highly customizable and includes the ability to add a tip.
Self-Checkout: With ERPLY's (free!) self-checkout add-on, you can set up a self-checkout kiosk with any Windows + Chrome-compatible touchscreen, scanner, receipt printer, or payment terminal.
Mobile Apps: ERPLY offers several mobile apps that let you perform different functions from your smartphone when you're away from your store. The Sales Dashboard app for iPhone and Android delivers on-the-go sales stats, providing detailed analytics about your store. In the beta mode for Android currently, the ERPLY Invoice app connects with your existing ERPLY POS account to let you send invoices to customers on the go or from the sales floor before they leave your store. ERPLY also has a Warehouse app (available as a web app, too) that lets you monitor and add inventory from your phone.
Customer Service & Support
ERPLY's customers largely have good things to say about the company's customer service and technical support. Not all reviews of customer support are positive. Some customers felt that support was not able to help them with technical problems they experienced with the POS. Though it would be ideal if ERPLY had 24/7 live support and a technical team that could handle anything you throw at them, I appreciate the number of support channels available. I especially like ERPLY's friendly, informative website and the searchable knowledgebase.
Phone & Email: Contact the support team directly by sending them an email or calling the number listed on their help site from 8 AM to 11 PM EST. Note that only limited email support is available on the smallest plan.
Knowledgebase: You've got to love an extensive, searchable knowledgebase with a plethora of training and educational materials, and ERPLY's got it.
FAQ: For more basic troubleshooting, there are several FAQ sections organized by category.
Tutorial Videos: A complete library of tutorial videos is also available.
Social Media: Alongside the company blog, you can keep track of ERPLY's goings-on through Facebook, Twitter, Instagram, and LinkedIn. Mostly, the company informs users (and the public) of the latest updates to its product through its Facebook page.
Compatible Credit Card Processors
ERPLY partners with just about every big name processor around the globe, and if your preferred processor isn't on the list, let ERPLY know. It may be able to add the integration for you. Rates may vary between the many providers.
We've done in-depth research on each and confidently recommend them.
You also have the option to accept payments via any external device, entering the amount due to your external device and into ERPLY.
With the $39/month plan, it looks like your only integrated payment processing option is Cayan.
Integrations & Add-Ons
There are several add-ons and direct integrations available with your ERPLY subscription. Moreover, plans at the $99/month level include API access, so you can integrate the POS with whatever software you like. That said, it would be nice to see more direct integrations with popular apps — for example, Mailchimp or Constant Contact for email marketing.
QuickBooks Online: This integration allows you to send new invoices from ERPLY into QuickBooks, synchronize customers between ERPLY and QuickBooks, and send invoice payments from QuickBooks to ERPLY.
Xero: This accounting software integration lets you synchronize your Xero account (invoices, customers, suppliers, purchase accounts, etc.) with your ERPLY POS.
ERPLY Books: A separate offering from ERPLY, this suite of online accounting tools can integrate with the POS for seamless management of your inventory and the money that flows around it.
PrestaShop, Magento & Shopify: These common online shopping carts can connect to ERPLY, enabling you to take online orders. Transactions, inventory levels, and CRM are all tied directly into your ERPLY admin.
AfterPay & ZipPay: These payment integrations provide your customers with flexible payment options.
JCurve & NetSuite: Users of these business management/ERP software suites can integrate their accounts with ERPLY.
ERPLY eCommerce (A WordPress Shopping Cart): ERPLY also offers the ability to build and customize your eCommerce platform, so it works seamlessly with your ERPLY system. It can be integrated directly into your company's web page, blog, and social channels. Keep in mind, though, that this is not a do-it-yourself feature and will require the services of an external web design and development agency.
Avalara: Integrating this tax compliance automation software is useful for cases where the sales tax rate depends on the shipping destination.
Warehouse Web App: A complementary application to the back-office functions, this mobile app is designed to be used in the warehouse or on the shop floor. Configure shipping and receiving rules, receive products from suppliers, and ship/receive products from another warehouse from most tablets and smart devices.
User Reviews
Negative Reviews & Complaints
It's a pretty great sign that I can't find too many complaints or negative reviews on the internet. However, there were a few, with the common complaints listed below:
Customer Service: A couple of customers reported long wait times, and several said their requests for help went unanswered.
Bugs & Glitches: Though this did not seem to be a prevalent problem, there were a small number of complaints regarding bugs and other issues regarding the software.
Less Than Intuitive Interface: Most current POS systems are wildly user-friendly, but ERPLY has multiple reviews that complain about the UI. Many of these reviews say that it's fine but simply isn't particularly intuitive.
Positive Reviews & Testimonials
On the flip side, there's no shortage of good vibes surrounding ERPLY. Its users seem to like it, suggesting that the software is every bit as simple and equalizing as its developers intended it to be. Some common points of praise are:
Impressive Features: A large number of customers praise the versatility of ERPLY's feature-set. A lot of customers are also impressed with the inventory feature.
Bang For Your Buck: Customers think ERPLY is well priced and delivers your money's worth.
Customer Service: Quite a few customers stated that their customer service experience was great and had no complaints.
Easy To Use: Though there can be a bit of a learning curve in some areas of the software, many customers laud the straightforward user interface and find it a breeze to operate.
Final Verdict
ERPLY distinguishes itself nicely, navigating with relative finesse the dichotomy between high-end functionality and "little guy" accessibility. The software is powerful, scalable, and incredibly versatile. Plus, it has an excellent price point for small and mid-sized retailers, particularly those that want to get smart about their inventories and customers. Even enterprise-level retailers have jumped aboard the ERPLY train, confirming that ERPLY can scale as large as you need it to. Though it's not the easiest software to learn and could use a few improvements in terms of support, you would be hard-pressed to find a more feature-packed POS at the $99/month price point. It wouldn't be fair to categorize ERPLY on the expensive side of the cloud-based POS scale, even though there are certainly cheaper systems out there. The real truth is that it's on the very low end of cost for full POS solutions.
Since ERPLY got its offline capability launched, I've had a hard time deciding what it should focus its development on. Perhaps it should concentrate on employing an in-house customer support team. But even as things are, ERPLY is a very solid cloud POS.
---
We've done in-depth research on each and confidently recommend them.
We've done in-depth research on each and confidently recommend them.
To learn more about how we score our reviews, see our
Point Of Sale (POS) Software Rating Criteria
.